HERA FINANCE a réalisé une soixantaine de transactions, soit 80% des mandats que lui ont confiés ses clients engagés dans des stratégies de croissance externe ou de recentrage.
Nous intervenons dans différents secteurs en Europe, Etats-Unis, Moyen Orient et Afrique, et plus particulièrement dans l'intermédiation entre les PME familiales ou les start-up d'une part et les grands groupes internationaux ou les fonds d'investissement d'autre part.
HERA FINANCE succeeded to close about 60 transactions or 80% of its mandates.
We advise clients on their external growth or focus strategies in different industries in Europe, USA, Middle East and Africa. We specialize in transactions between family owned or start-up companies on one side, and major corporations or private equity funds on the other side.
Notre activité se répartit dans les secteurs suivants : / Activity split by industries:
<![if !vml]>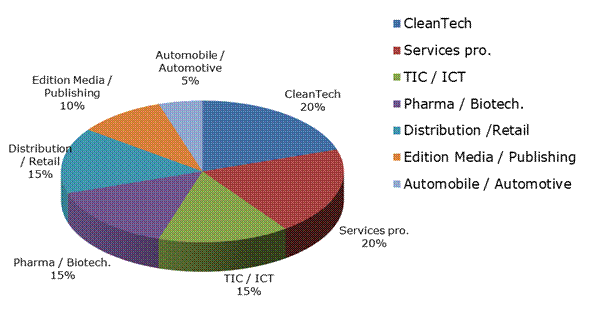 <![endif]>
En outre, HERA FINANCE a été amenée à travailler avec des contreparties très variées :
<![if !supportLists]>· <![endif]>Des groupes industriels internationaux (GE, SCHLUMBERGER, KINGFISHER, GROUPE ARNAULT, VISTEON, DELOITTE TOUCHE TOHMATSU, INGENICO, GROUPE SARENS, VIESSMANN, GDF SUEZ COFELY – devenu ENGIE …)
<![if !supportLists]>· <![endif]>Des fonds d'investissement de premier plan (APAX, PERMIRA, ACTIVA CAPITAL, ADVENT INTERNATIONAL, 3I, BNP PRIVATE EQUITY, PARTECH INTERNATIONAL, AMADEUS, PAI MANAGEMENT, PRUDENTIAL, IRIS CAPITAL, SIPAREX, UI, CIC FINANCE, AAF SME FUND…)
<![if !supportLists]>· <![endif]>Des banques commerciales (SOCIETE GENERALE, CREDIT LYONNAIS, GROUPE BANQUE POPULAIRE - NATEXIS et BRED, BNP PARIBAS, HSBC, CREDIT MUTUEL, GROUPE CAISSE D'EPARGNE, MERRILL LYNCH…)
<![if !supportLists]>· <![endif]>Des investisseurs privés et « Business angels »
Moreover, HERA FINANCE has worked with many counterparts :
<![if !supportLists]>· <![endif]>Major international firms (GE, SCHLUMBERGER, KINGFISHER, GROUPE ARNAULT, VISTEON, DELOITTE TOUCHE TOHMATSU, INGENICO, GROUPE SARENS, VIESSMANN, GDF SUEZ COFELY – now ENGIE…)
<![if !supportLists]>· <![endif]>Leading private equity firms (APAX, PERMIRA, ACTIVA CAPITAL, ADVENT INTERNATIONAL, 3I, BNP PRIVATE EQUITY, PARTECH INTERNATIONAL, AMADEUS, PAI, PRUDENTIAL, IRIS CAPITAL, SIPAREX, UI, CIC FINANCE, AAF SME FUND…)
<![if !supportLists]>· <![endif]>Retail banking lenders (SOCIETE GENERALE, CREDIT LYONNAIS, GROUPE BANQUE POPULAIRE - NATEXIS and BRED - , BNP PARIBAS, HSBC, CREDIT MUTUEL, GROUPE CAISSE D'EPARGNE, MERRILL LYNCH…)
<![if !supportLists]>· <![endif]>Private investors and « Business angels »
   <![if !vml]>

<![endif]>   <![if !vml]>

<![endif]>  <![if !vml]>

<![endif]> <![if !vml]>

<![endif]> <![if !vml]>

<![endif]> <![if !vml]>

<![endif]><![if !vml]>

<![endif]> <![if !vml]>

<![endif]> <![if !vml]>

<![endif]>
  <![if !vml]>

<![endif]>   <![if !vml]>

<![endif]>   <![if !vml]>

<![endif]>
<![if !vml]>

<![endif]><![if !vml]>

<![endif]><![if !vml]>

<![endif]> <![if !vml]>

<![endif]><![if !vml]>

<![endif]>     <![if !vml]>

<![endif]>     <![if !vml]>

<![endif]>     <![if !vml]>

<![endif]> 
   <![if !vml]>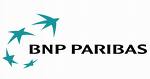 <![endif]>   <![if !vml]>

<![endif]> <![if !vml]>
<![endif]>